Expecting a Winter Baby? Here's How You Need to Prepare
There's a lot to get in preparation for a new baby, no matter what time of year they're expected. But if you are expecting a winter baby, there are a few extra preparations you need to take, in addition to diapers and cribs and formula. Here are some good tips to plan ahead and make sure your winter baby will be happy and comfortable.
Keeping your Winter Baby Warm
Dressing up Baby
Dressing baby for winter weather is more complex than the rest of the year since you'll need at least two layers of clothes to keep your little one snug and warm. Babies usually double their birth weight by the time they're six months old, so make sure you have some winter clothes that'll fit your child after that growth spurt. Some new moms buy clothes because they're "cute," without really considering whether it would be seasonally appropriate. Therefore, don't buy the adorable winter coat for a 9-month-old, because at 9 months of age, it may be summer time. In other words, don't buy winter clothes that won't fit your child when you need them most!
Don't forget to keep baby's bottom nice and warm in their diapers, too! If you're cloth diapering, fleece diaper covers might be an ideal solution.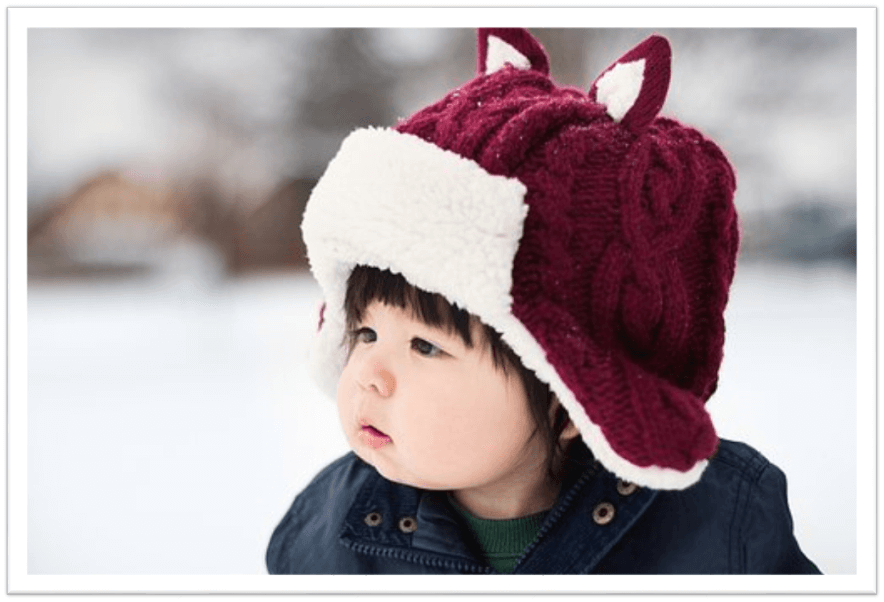 Check the temperature
Don't forget to check baby's temperature regularly, and add or remove layers if they're too hot or cold. This does not mean necessarily getting the thermometer out. Feeling their necks and foreheads may be enough to know if they're comfortable or overheated.
Wool, particularly Merino wool, is a good choice for baby's winter outfits, since it's incredibly warm but also a breathable natural fiber, which helps with temperature regulation.
When you are outside, baby winter coats or a nice heavy snowsuit isn't a bad idea, but your winter baby will still need layers under that in case they overheat. Watch for sweating, damp hair, heavy breathing, restlessness, or a heat rash, and lose a layer as quickly as possible if you see any of these signs.
Keeping Mom Warm, too
Mom needs to remember to dress warmly too, especially if you're breastfeeding your winter baby. Layered nursing tops with easy-access panels will take a lot of the guesswork out of snack time in the cold, and a warm, fuzzy nursing cover can also be a great help in keeping both you and your little one warm no matter when they need to eat.
Going Outdoors in Winter Weather
Getting some fresh air and exercise is important for parents and babies alike, even in the winter. We all need the Vitamin D that we absorb from the sunlight, and taking baby out into the word helps expose them to new sensations as well. It's also a chance for Mom to work off some pregnancy weight and Dad to bond with the little one.
Get Winter Ready
Of course, getting a winter baby out and about presents its own challenges.
Believe it or not, baby sunscreen is even more important for winter baby than it is during the summer! We tend to associate sunscreen with going to the beach, but winter snow reflects even more sunlight back up to your skin than the darker ground in the summer. Don't forget to apply some sunscreen before taking your baby out at any time of year.
Get your stroller winterized
Many strollers and carriers can be fitted with rain or snow covers. This is to help keep baby out of the elements. Get a stroller foot muff or a warm fleece stroller blanket to keep baby snug and warm on the stroller ride. If you prefer to wear your baby (a great way to foster close contact and stay warm on the go), look for an attachable blanket and baby carrier cover like the kurumi ket below.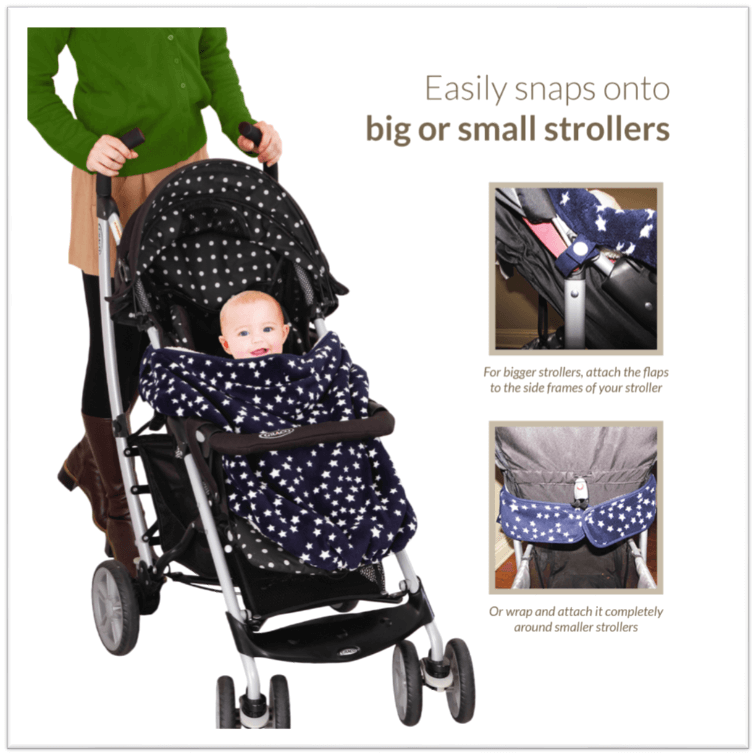 Get your car-ride ready
You'll almost certainly take baby in the car to get from one place to another, so don't forget to make sure the car is nice and warm for them too! It's a good idea to start your car a few minutes before leaving your house, so that the car seat isn't freezing when you put baby in. By warming up the car, it also allows the air inside the car to warm up.
A clever mom-hack is to use a baby seat warmer – it's like a hot water bottle, with all the benefits but none of the hassles. It takes 30 seconds to warm up, and you could put it into your baby's car seat to warm it up, before you put baby into it.
Winter Baby Bath Time
Keep baby's bath nice and warm during the winter. A bath thermometer can be a great help here. You'll also want some big and/or hooded towels at the ready as soon as bathtime's over, since leaving the water will instantly cool your little one off a lot. Many pediatricians also recommend that you avoid antibacterial soaps for baby so their immune system has a chance to grow by fighting germs.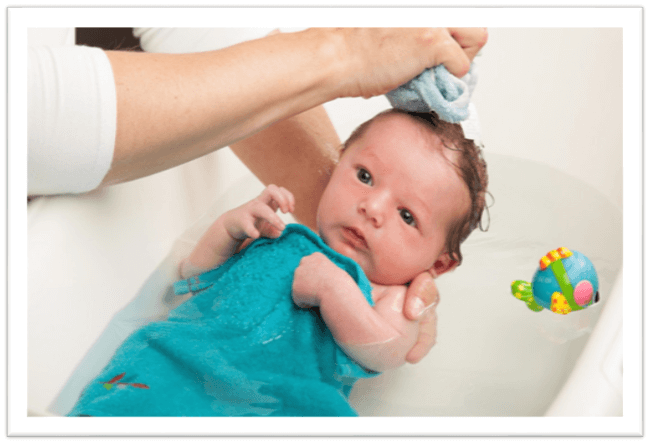 Also use a baby washcloth to keep baby warm while in the bath. This is an old but wise mom hack for new babies.
How to keep baby warm at night?
Use wearable blankets: Most pediatric associations recommend NOT using blankets for infants since they might get tangled up in the blankets and hurt or suffocate during the night. To keep baby warm through winter nights, get a sleeping bag or wearable blanket – it'll do the job with far less risk to your little one's health. For an extra layer, put on a long sleeve onesie or undershirt.
Flannel crib sheets are also a big help in keeping baby warm throughout the winter. Make sure you have extras on hand because you will need to change them regularly as baby soils it.
A Room thermometer for your nursery, so you know exactly how warm the room is when you're settling baby down for the night or a nap. 65 degrees Fahrenheit is an ideal napping temperature for your little one. Having a thermostat for the room baby sleeps in, is important because baby's room might be warmer or cooler, depending on the airflow of the house.
Warm baby's bed before he/she gets in. Using a heating pad, a hot water bottle or a stroller/ car seat warmer like the cocogel referenced above (and image below), is an old but clever mom-hack. Be sure to remove it once you put your baby down to sleep.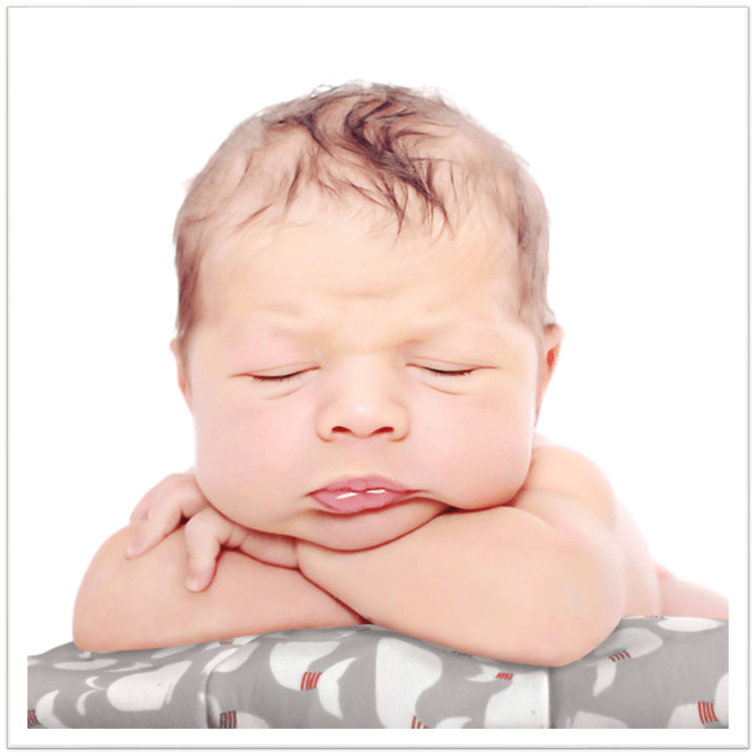 Keeping Baby Healthy in Winter
Get a humidifier for your little one's nursery, so they don't get sore throats and noses from breathing in the dry air all night. Cleaning out your humidifier is a chore, but it's important to do so regularly to prevent bacteria from growing in it.
Use baby-safe moisturizer. Cold, dry air does a number of baby's delicate skin, so invest in a baby-safe moisturizer to help prevent rashes.
Wash your hands, and baby's too. Winter is a prime season for people of all ages to get sick, but you have to be especially careful of winter baby's health – infants simply haven't had the chance to build up a strong immune system yet, so they're especially vulnerable. Wash your hands and baby's toys, dishes and clothes regularly to help cut down on their exposure to germs. Hand sanitizer is also useful in a pinch for parents.
Preparing for the Worst
No one wants to think about emergencies in the home or being stranded in your car, but making sure you're prepared for these situations will make all the difference if you and winter baby find yourselves in one. First aid kits, extra blankets, fresh clothes and diapers, flashlights, water, and snacks are invaluable in the home or car. If you live in regions that get snow, you'll also want an ice scraper, cat litter or rock salt in your car, to help get you unstuck from a slippery patch. Also, keep a working phone charger in your car at all times, so that you can call for help.
I hope you enjoyed this post. I am a mother, like you – trying to keep my family warm and healthy during winter. I have 5 children and three of them were born in winter, so I empathize with you.
If I've missed anything, let me know by leaving comments. I'll be happy to add it.
Gioula