Travel high chair
We planned a vacation with the baby for the first time. I knew beforehand that this vacation would be different than any vacation before, but that we have to pack so many things for the baby, I would not have dreamed. Clothes for warm and cold days, diapers, care utensils, little caps, toys and, and, and … But do I also need a travel high chair?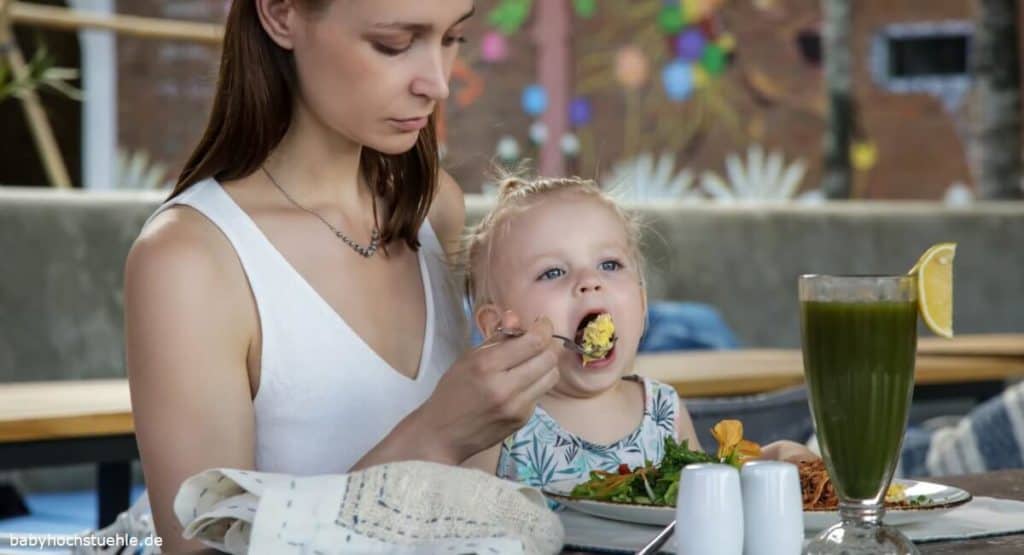 A folding high chair for sharing meals at the table on the go. If the baby can already sit on its own, it will want to do so on vacation, the pediatrician said. In addition, he said, one does not know who has sat on the high chair in a restaurant and whether it is regularly disinfected. Such a travel high chair can be helpful in many places: In the hotel room, camping, playing with the baby or feeding on the road, when a simple booster seat is not enough. Even those who have little space in the kitchen at home will benefit from a rice high chair as a booster seat or table seat. Which foldable, transportable, foldable or collapsible travel high chair you ultimately choose depends on the intended use and the available space.
Different high chairs
A travel high chair as a table seat is clamped to the table. You do not need a stand, because the table seat hangs virtually in the air. Another name for the table seat is clamp seat, because the seat is attached to the table top with the help of two brackets and clamps at the front ends. In my research, I found that the clamp brackets can usually handle tabletop thickness up to 4 cm. Only some also handled thicker table tops. When it comes to materials, aluminum for the frame and durable polyester for the seat have become the most popular. However, you can also find inflatable versions. A table seat usually does not have a tray, but there are exceptions. It is approved only up to a certain body weight and can be used from the time the baby sits independently.
A foldable high chair is a high chair for camping and traveling, but also to save space in the kitchen at home. Important safety features of the folding high chair are slightly slanted legs and a safety belt. The foldable frame is made of aluminum or tubular steel. It can be folded small enough to fit into a carry bag with a small pack size. Quickly set up and quickly stowed, the camping high chair foldable is suitable from the time the child can sit independently until the age of 3 years. Often a net basket is integrated under the seat as a storage option. The high chair camping has the advantage that it stands straight even on uneven ground.
More travel high chairs
Some travel high chair is an inflatable child seat with raised sides. The booster seat is attached to the chair with straps. It is suitable for children from 6 months to 3 years or a maximum weight of 15 kg. For transport, such a child seat folds small. A combination seat as a travel high chair child seat converts from a travel bag to a booster seat when needed. In the travel bag is space for the bottle, diapers and more. Using the carrying strap, the child seat is worn over the shoulder like a shoulder bag. A minimalist travel high chair is a portable high chair made from a cloth. Through loops, holders and straps, the cloth transforms any normal seat into a high chair for children. The washable cloth is made of a blend of cotton and polyester. It is suitable to fix children between 6 and 30 months on an adult chair. The disadvantage for smaller children: However, such a cloth is not a booster seat.
Chico travel high chair
Chicco Pocket Snack Booster Seat
The travel high chair is optimal for traveling and for those who do not have so much space in the kitchen, because the smart booster seat is attached to a normal chair or on the corner bench in the kitchen by means of straps. The foldable table high chair has three seat heights, a dining tray/play table and a 3-point harness for strapping in. Folded for travel, the travel high chair is no bigger than a handbag. Its frame is made of metal. The seat and tray are made of plastic and are super easy to clean. The dimensions of the travel high chair measures folded at: 29 x 32 x 21 cm. When unfolded, the dimensions are 36×35/50×33 cm. The booster seat can be used for children up to a body weight of 15 kg.
Chicco Pocket Snack Booster Seat, Grey
Quick set-up; easy and compact fold
Sturdy metal legs adjust to three height positions
Removable tray adjusts to three positions
Three-point harness
Anti-slip, non-marking feet
Chicco Easy Lunch
The brackets of the Chico Easy Lunch table seat are compatible for a tabletop thickness between 19 mm and 35 mm. The brackets are adjusted to the thickness of the table top with a safety screw. The table seat is made of washable textile fabric. The dimensions are 40 x 24 x 64 cm. The weight is 3 kg. The table seat Chicco Easy Lunch is suitable for from the age of 6 months up to a maximum weight of 15 kg.
Chicco Snack Booster Seat - Grey Star | Grey
Space-saving, high-back booster seat with secure and easy attachment to dining chairs
Adjustable 5-point padded harness
Full-size, snap-on tray with one-hand removal/adjustment
Removable tray liner for easy cleanup
Cushioned backrest
Chicco Baby Elephant
The booster seat as a travel high chair has a fun design, because the padded seat cushion elephant is included with this booster seat. The cushion can be removed for cleaning. The table seat with removable tray is made of plastic. The booster seat Mode is similar to the Chicco table seat Easy Luch, but does not have a crossed frame to vary the seat height. Rather, the change in seat height is done through the feet, which are hidden on the bottom of the travel high chair. Fastening to the chair is done by straps. The weight of the high chair is 2 kg. The dimensions are 35x35x30 cm. Children can use the travel high chair up to the age of 3 years. The adjustable straps become carrying straps when the camping high chair is to be transported.
Chicco Chairy Booster Seat
The travel high chair Chairy grows with the child, because the height is four-way adjustable. The travel high chair for children between 6 and 36 months is used as a booster seat and at the same time can be used on the floor as a child's chair. The plastic seat is upholstered with a removable cover, and when the child is placed in the high chair, the tray must be removed beforehand. This circumstance is perceived by some users as a more cumbersome drawback. From the age of 12 months, the tray can be omitted altogether when eating. The booster seat has a 3-point harness to secure the child in the high chair and straps to attach it to the chair. The booster seat can be completely folded. Then the dimensions are 16.56×42.5×38 cm. When unfolded, the size of the rice high chair is 36x38x 65 cm. Its weight is 2.5 kg.
Chicco 360 Hook-On Chair
With the table seat 360° Chicco carries a rotatable table seat in the range. To put the baby in the seat, the table seat attached to the tabletop can be turned to the side. This makes sitting down easier. A total of 6 different seating positions are available forward, backward and sideways: The Chicco 360 °is suitable for table tops with a thickness between 19 and 90 mm. Safety is ensured by the 3-point safety harness. The table seat does not have a tray. It measures 34×12.5×46 cm and weighs 3.8 kg. Children may use the table seat up to a weight of 15 kg.
Chicco 360 Hook-On Chair, Scarlet
Innovative seat locks in 6 positions for happy and interactive mealtimes
Snap on serving tray provides a neat and clean surface for meals at home or away , Carton Dimensions - 14.5x 17.5 x 6 inches
Machine-washable fabric seat pad and dishwasher-safe tray make clean up easy
Compact fold and deluxe carry bag makes travel and storage simple
Usage:For children from 6 to 36 months, up to 37 lbs, who can sit upright without help
Ciao! Baby travel high chair
ciao! baby Portable High Chair
The Ciao! Baby Portable High Chair is a classic camping high chair for all outdoor activities. Unfolding without assembly, space-saving with its sleek design and folding quickly, the folding camping high chair with integrated tray and cup holder leaves nothing to be desired. The travel high chair is equipped with a 5-point safety harness and does not contain phthalates or lead and the spent nylon fabric is flame retardant. The tray is covered with washable vinyl. The rice high chair packs into a space-saving carry bag when not in use. It can be used for children up to a weight of 15 kg. The dimensions are 58.4 x 58.4x 81.3 cm when unfolded.
ciao! baby Portable High Chair for Babies and Toddlers, Compact Folding Travel High Chair with Carry Bag for Outdoor Camping, Picnics, Beach Days, and More (Black)
THE CIAO BABY DIFFERENCE - Having a baby can mean a big change to the way we enjoy our favorite outdoor activities. Lightweight and foldable, our ciao! baby portable high chair makes it easy to enjoy life on the go and bring your little ones along for the ride.
SLIM & FOLDABLE - The ultimate space-saver, our foldable high chair unfolds easily, locks into place, and folds back up in seconds. No assembly required. With its slim design, you can easily store one in your car for easy access.
EASY TO CLEAN FEEDING TRAY - This travel high chair is compact enough for camping, beach days, picnics, vacations, tailgating, and more. This portable high chair includes a built-in feeding tray and cup holder. The chair is made of durable nylon fabric and the tray is covered in clear vinyl that easily wipes clean with water.
FIVE POINT SAFETY HARNESS - Meets US American Society for Testing and Materials (ASTM) and EU European highchair safety standards and all Consumer Product Safety Improvement Act (CPSIA) guidelines including lead, phthalates and flammability. The perfect baby seat to keep your little ones safe and secure!
HOLDS UP TO 35 POUNDS- ciao! baby high chairs meet the highest safety standards, fold and lock in seconds, clean easily, and grow with your baby from infant to toddler. This chair comes with a convenient carrying bag and holds up to 35 pounds. Make life easier with ciao! baby!
Graco Portable High Chair
Graco Slim Snacker Highchair
The Graco Snack N'Stow travel high chair with a metal frame and a plastic seat shell has a low weight and small set-up dimensions. The rice high chair is 15 cm wide when folded and weighs 5.48 kg. It fits behind any door when folded. When unfolded, the dimensions are 90.10×74.10×60.6 cm. Seat, tray and footboard are adjustable. The child is secured with a 5-point harness. All surfaces are washable and the maximum user weight is 15 kg.
Graco Slim Snacker High Chair, Ultra Compact High Chair, Gala
Fast folding high chair, with a one-hand, one-second fold
Ultra-slim folding high chair is designed to fit in compact spaces
Fold it and forget it, thanks to the self-standing fold
Seat pad is wipeable for easy cleanups
Large storage basket keeps baby's essentials nearby during meals
Graco Table2Table Premier Fold
Travel high chair with metal frame accompanies the baby for a long time, because the seat can be tilted for a resting position. The travel high chair is 9-way height adjustable and the backrest can be adjusted in three positions. The baby is secured with a 5-point harness with harness pad. The tray is removable as needed and may be cleaned in the dishwasher. The newborn insert and the seat cushion are suitable for cleaning in the washing machine. The baby high chair folds and stows with just one hand. For easy transport, two wheels are attached to the front frame.
Phil and Ted's travel high chair
The Phil & Teds LB 11 Lobster travel seat belongs to the table seats. The rice high chair weighs less than 2 kg and has its own transport bag with dimensions 35x34x8 cm. Lobster table seat consists of a metal frame, a tray and a fabric seat. If you pull the clamp seat out of its bag, then it unfolds itself. The clamp seat is screwed to the table top. The lobster claws for attachment with on/off mechanism are certified worldwide. They can be opened only by adults. As a version of the LB 11, the Phil & Teds LB 5 can be found as a predecessor version in the trade. Putting the legs through turns out to be a bit more difficult with the Lobster 05, because the fabric of the clamping seat nestles around the thighs like a cuff with an elastic band. With the Lobster 011 this was solved differently. In the Phil & Ted's MB2-Pod 21 transportable high chair, the fastening clamps have a round instead of a pointed shape at the front. The manufacturer states that a Phil & Teds Lobster table clamp seat can also be attached to round tables. Push buttons allow the cover to be detached from the metal frame for washing. The assembly is simple.
Inglesina travel high chair
Inglesina foldable table seat made of sturdy tubular steel and textile measures 42x35x27 cm and weighs 1.9 kg. The table seat can be used as a universal table seat on beer tables in the beer garden and on tables with a ledge under the tabletop, if the seat is held at a slight angle during assembly. A waist belt secures the child. The table seat comes with a transport bag.
Inglesina - Fast Table Chair with Fast Tray: Hook On Portable High Chair for Babies and Toddlers, Damage Free Travel Booster Seat for Restaurant Use - Includes Snap On Tray, Navy
Award Winning Hook On Chair: Easy to use twist-tight couplings secure the Inglesina Fast Table Chair onto any table up to 3.5 inches thick. This unique feature allows your child to feel included during meal time.
Leaves No Trace: Design ingenuity makes it so that our high chair leaves no damages or scratches. Attach it to any restaurant or home table worry free! Includes Fast Tray for easy clean up.
Durable And Convenient: Our clip on high chair is Ideal for babies and toddlers between 6 and 36 months, and up to 37 pounds. Also includes handy storage pocket to ensure immediate access to all your baby needs and accessories.
Portable: Our table chair for babies comes complete with an integrated travel bag for when you are on the go. It is totally collapsible making it easy to store or pack for when on the go.
Professionally Made: Inspired by the Montessori principles of sharing and autonomy, the Fast Table Chair is the legendary, must-have table chair that is as comfortable as it is convenient.
Travel high chair

Travel does not have to be overseas, it does not even have to be interstate, it might just be down to a cafe for lunch with the moms. One thing is a given though, it does not matter if your travel is overseas, interstate or local, when you have a baby, the logistics of travel are much more difficult. High chairs are one of those logistical problems that can be a nightmare. Do you take your own high chair, or do you take a gamble that there will be a high chair available when you arrive? If you are depending on high chair availability at your destination, how much do you trust the sanitation of that chair? Your baby will be eating in it after all.
While the standard home high chair models are not easy to travel with, fortunately there are a number of high chair designs that are specifically designed for travel. These can be packed easily, carried easily and set up easily at your destination. Typically they attach to a chair or stool. So you can always be confident knowing there will be a setting available at your destination. Below are summaries of the major types of travel high chairs:
Hook-On Travel High Chairs
Hook-on chairs are light-weight, fold up chairs that attach to the table you are eating at. The big plus with these travel chairs is your baby is always at table height and therefore will be able to eat with you better, and interact with you better. Have a look at the different varieties of hook-on travel high chairs too, there are plenty of features to choose from. For example, some allow swiveling, making it easier for you to feed your baby. Some come with their own tray. The padding arrangements are different with the different models. And always consider how well a particular model packs for ease of carrying.
Booster Seats
There are a range of rigid portable seats which strap onto chairs. These types of chair are called booster seats. They are probably the travel high chair which offer the most variety in the industry. Some are long and thin, others self inflate with a pull out valve (which is great for packing away), some are fold up seats with a strap for carrying, I've even seen some wooden travel chairs that fold completely flat, but when unfolded, attach to the chair back with a hook while sitting on the seat. The range of products is this category of chair is so varied, the only advice I can offer is to find the chair that best fits your travel needs and best fits the locations in which you'll most use the chair.
Harness Slip Ons
These travel seats are little more than cloth harnesses. They basically convert all types of chairs, chairs with different shapes and sizes, into a high chair. These chairs are brilliant for long haul travel because they squash down into a tiny travel pouch. Given they are 100% cloth, these pouches can then be used as a travel pillow. (Assuming they don't smell too bad from the last round of spillages). Being cloth too makes them completely machine washable, making cleaning up a bit easier. They are only really suitable for babies who can sit unaided already though, which is usually from around 8 months onwards.