Thinking about Carrying Baby. Here's what you should know.
Carrying baby is easy, but it does take a little getting used to. A lot depends on the type of carrier you are getting, too. Some baby carriers are significantly easier to figure out, than others. There are basically three types of baby carriers for carrying baby. I am listing them here in order of "ease of use". Having said that, this is a general opinion and YOU might feel different once you start using it yourself.
Wearing your Baby with a Soft, Structured Baby Carrier. Examples of these are Mei Tai baby carriers like the Infantino, and Cuddlebug, as well as more structured carriers with buckles, like the Side Plus, Ergobaby, Onya, etc. They are made of soft, padded fabric. They have two shoulder straps that can either be tied or attached to you by a buckle. Once you get the hang of these carriers, you can get baby settled in, in under a minute. These baby carriers can be used to carry your baby in the front, or on your back.
Wearing Baby with a sling. Examples include the Ergobaby, Beco Baby Carrier, Mamaway, etc. A babywearing sling is a long piece of fabric, with a ring on one end of the fabric. The fabric must be strong and sturdy to support the weight of your baby. They're also known as ring slings, and they're worn across your torso, on one shoulder. The fabric creates a seat for baby to sit in, and the ring helps to adjust the sling to ensure that baby is safe and secure. Most of the time, ring slings are used to carry baby on your side. Newborn babies can be carried in front, on your chest. More adventurous moms can also use baby slings to carry baby on their backs.
Carrying Baby with a wrap. Examples include the Boba, Moby and the Hip Baby Wrap. Like the ring sling, a wrap is also a long piece of fabric but in the case of the wrap, it is longer. There is quite a learning curve involved with baby wraps, but it's basically a piece of fabric that is wrapped around your torso and shoulders, to support a baby. Yes, baby wraps have absolutely been described as complicated but once you get the hang of them, they are extremely versatile. There are many different styles of carrying too. You can carry your baby on your front, side, back – you can even carry two babies at the same time. Below is an instruction video of a basic front carry with a wrap, but styles are endless. So, once you get the hang of it, you can really have fun with it. And, there are a ton of instruction vidoes available for you, on YouTube.
Once you have selected your baby carrier of choice, it is time to go through the basics. In other words…
The ABC's of Babywearing
While Babywearing is easy, it is vital that you follow the safety guidelines as below. Also take care to look at the manufacturer's safety guidelines of the carrier, to ensure baby's safety at all times.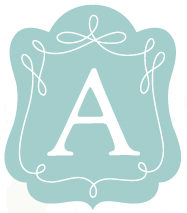 Airway
Never let baby's chin touch their chin. This position cuts off their airway and makes it difficult to breathe. Baby's chin should be tipped up to help keep baby's airway open. Also make sure their head is always within kissing distance from you.
If you're using a wrap or a ring sling, you shouldn't need to move the fabric, to see baby' face either. Baby's face should never be pressing into your chest. Instead, position baby's head so that his/her ear is against your chest.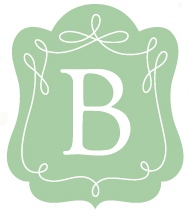 Body Position
Baby should always be in an upright position unless he/she is nursing. When they are done nursing, put them back in the upright position.
Babies need different amounts of neck and trunk support as they grow. Make sure the baby carrier you're using is age-appropriate. Ideally, carriers should let your baby sit with their knees higher than their bottom, with their thighs and bottom carrying most of their weight. Baby's legs should be spread so that his/her spine and hips are supported, and not dangling. Improper positioning can lead to hip dsplasia.
Baby's knees should be higher than her bottom and legs spread so that her spine and hips are supported for healthy development. (Newborns can be worn in a cradle position as well, but face should still be high and visible).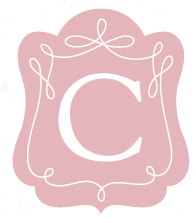 Comfort
If the carrier's not comfortable for both you and baby, neither of you will enjoy babywearing. While you're getting used to your new carrier, have a spotter handy to help you if you need it. If that's not an option, practice with a doll. Or, practice over a soft surface like in the middle of a big bed, or throw a thick blanket on the floor and practice from there. Do so until you are confident with the carrying method. If you need additional help, there are a ton of helpful babywearing instruction videos on YouTube. Still unsure? Consult your carrier's use instructions or contact the manufacturer.
For your convenience, we've put together a handy infographic for you.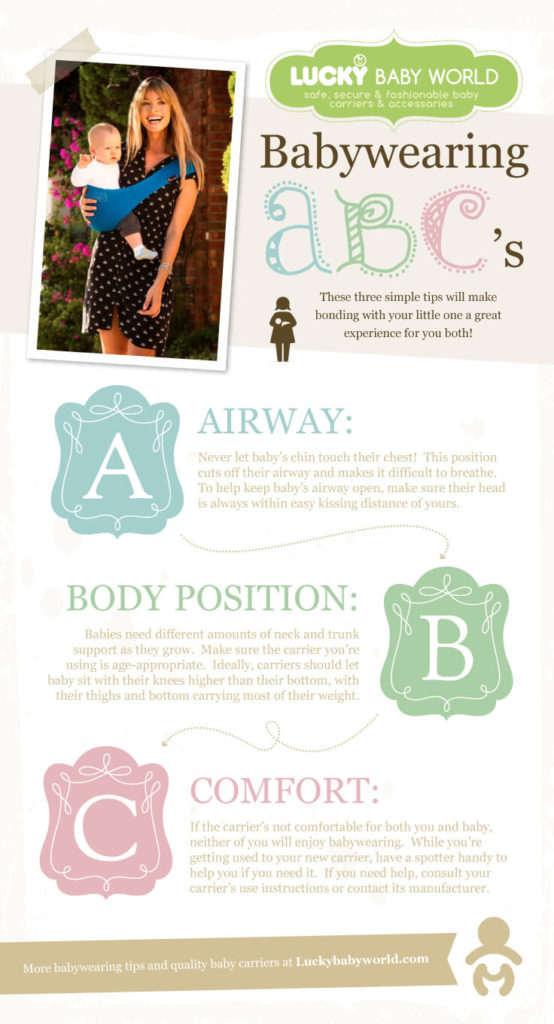 I hope you have found this post useful.